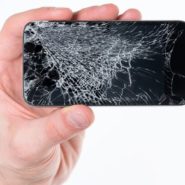 Screen Repair in Fayetteville, NC
Don't trust your Screen Repair to just ANYBODY! We have proven experience in screen repair – over 10 years of serving the Fayetteville area – we are a company that you can trust!
No need to get rid of your phone just because the screen is cracked, we can fix it for you. Just stop in at our location and we will have your screen looking like new in no time at all!
Many believe that a cracked screen is a death sentence for their laptop, tablet or smartphone. A warranty typically does not provide coverage for "accidental" damage like a broken screen. The good news is at Cape Fear Computer we have you covered.
We professionally replace your laptop screen, ipad screen, or iphone screen with quality replacement parts. We keep a huge selection in stock, and turnaround is normally same day. If you have one of the rare screens we don't have on hand, we're normally able to get them next day. All screens are not created equal! We only use premium quality screens and not the cheap Chinese knock-offs found on E-bay and similar sites. We want your device to be as close to original as possible.
Remember if someone quotes you a price that sounds to good to be true, it probably is. Ask them about the quality/manufacturer of screen used. They are probably using the cheap stuff.
All of our screens have a 60 day warranty from manufacturer defect or failure.
Stop by or call Today for a free quote.
BRING US YOUR DEVICE FOR AN ESTIMATE! QUICK, FAST and RELIABLE SERVICE !
We Can Fix Your:
Cape Fear Computer, Inc.
The ONLY Computer Service You Will Ever Need!
(910) 864-6393
4762 Yadkin Road
Fayetteville, NC 28303
capefearcomputer@gmail.com
Disclaimer- iPhone®, iPod®, iPad®, MacBook®, and iMac® are trademarks of Apple, Inc. Android™ is a trademark of Google, Inc. BlackBerry® is owned by Research in Motion Limited and is registered in the United States and may be pending or registered in other countries. Xbox® is a trademark of Microsoft. PS3™ System is a trademark of Sony Computer Entertainment Inc. All other trademarks are the property of their respective owners.
Cape Fear Computer and its products are in no way endorsed, sponsored, or affiliated with any of the above mentioned entities or subsidiaries thereof. The products offered on this website are NOT refurbished, offered or authorized by any of the entities mentioned above. Cape Fear Computer makes no representations or warranties of any kind, express or implied, about the completeness, accuracy, reliability, suitability or availability with respect to the listing or the information, products, services, or related graphics contained on the listing for any purpose. Any reliance you place on such information is therefore strictly at your own risk. We will not be held responsible for any misuse or misrepresentations of our products.